#CelebrateDifferences - Autism Acceptance Month 2022
Kicking off with World Autism Awareness Day on April 2, Autism Acceptance Month is an ongoing international effort to promote autism awareness and acceptance to ensure that all affected by autism can achieve the highest quality of life possible.
Designed to build a better awareness of the signs, symptoms, and realities of autism, Autism Acceptance Month focuses on providing information and resources for communities to be more aware of autism, promote acceptance and be more inclusive in everyday life.
With the prevalence of autism in the USA rising (from 1 in 125 children in 2010 to 1 in 54 in 2020), it is more important than ever that communities are encouraged to celebrate their differences and become more inclusive of individuals with autism. Music in the great outdoors promotes spontaneous, inclusive play opportunities for expression, fun, and laughter, helping support individuals with ASD and their families by strengthening the bonds of communication between parents, grandparents, siblings, and friends.
The Morgan Autism Center in San Jose, California, has benefited from Percussion Play's instruments, helping support its mission to help adults and children with autism or other developmental disabilities maximize their potential in a positive and loving environment. Brad Boardman-Executive Director, wanted to create a music garden following research into the benefits of music. Brad says, "Music benefits people of all ages and abilities. Besides stimulating both hemispheres of the brain, music opens up an alternate avenue for communication. People with autism can often struggle to interact with others. By playing music together, our students can make interpersonal connections in a way that works for them".
Research and science back up our belief that creating music outside can improve communication and social interactions for people with ASD, helping promote inclusive play and support music with no boundaries. You can read more research on the benefits of music for People with Autism Spectrum Disorders here or download the white paper.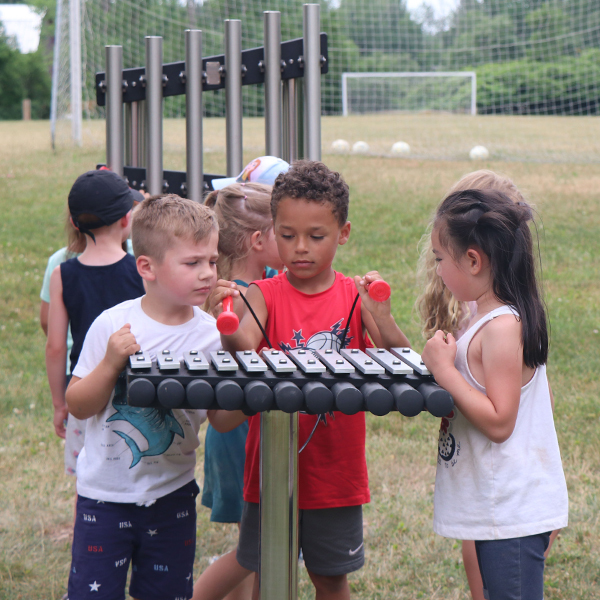 Making music around the campfire is just one traditional pastime at camps that guests often find to be one of the highlights of their stays. The warmth...
---