Caption Contest - Win a Titan Babel Drum
Our Easter 'Caption Contest' will see one witty winner get their hands on a limited edition hand-held Titan Babel Drum.
With tones that flow sweet, rich, and deep, playing the Titan Babel Drum is a wonderful unique hand drumming experience that will quickly become addictive. With its own unique voice, it is a spirited instrument that can be enjoyed in a multitude of environments such as home music-making, classroom music education, music therapy sessions and meditation, drum circles, and performance.
Designed to be played with the hands, side of the thumb, and fingertips, a wide range of tones can be created through experimenting and developing different playing techniques to match your mood; peaceful and calm when you are winding down or shift it up a gear for a serotonin-boosting session!
Manufactured from stainless steel the Titan measures just over 18cm/7" high and is 41cm/16" in diameter and weighs 7kgs/15lbs
For your chance to win - head over to our Facebook or Instagram pages to add your comment.

Competition Rules
These rules apply to the Caption Contest published on Percussion Play's Facebook and Instagram Accounts on 1 April 2021.
The contest ends on Friday 30th April at 11:59 P.M BST when a winner will be chosen by a member of the Percussion Play team.
To enter using Instagram or Facebook comment on the image posted on @percussionplay for your caption to be considered as an official entry in the contest. Alternatively, email your entry to info@percussionplay.com with 'Caption Contest' as the email subject line.
One entry per person, e-mail address, Instagram, or Facebook account. Anyone age fourteen or over can enter, except employees, agents, or representatives of Percussion Play or any member of their immediate family.
The winner will be announced on Percussion Play Social Media channels or by email no later than 5th May 2021.
The winner will receive a hand-held Titan Babel Drum (shown above) and the prize includes shipping to an address supplied.
The caption must not be lewd, obscene, sexually explicit, pornographic, disparaging, defamatory, libelous, or otherwise inappropriate, offensive, or objectionable, as determined by the judges in their sole and absolute discretion. Any such entries will be disqualified. The entry must be the original work of the entrant and not previously published, and the entry must not infringe the copyright, trademark, privacy, publicity, or other intellectual property rights of any person or entity. All entries become the property of Percussion Play who has the right to use, and authorize others to use, all entries in any and all print and electronic media, now or hereafter existing, without time limitation, and to edit them for brevity and clarity.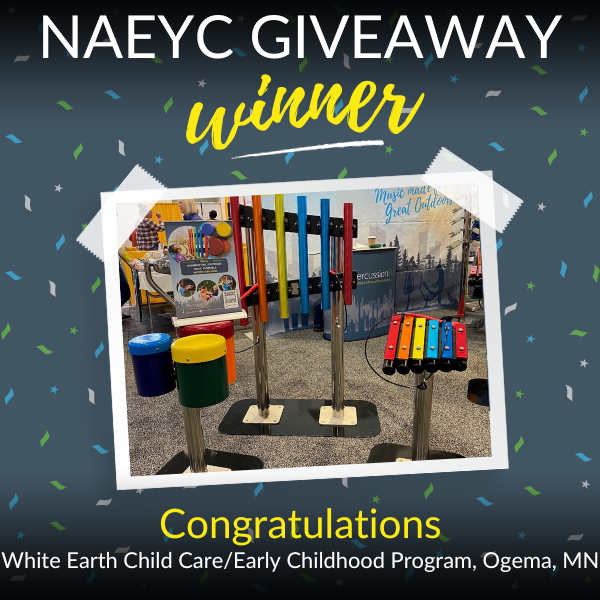 Last week we attended the NAEYC Annual Conference and Expo in Nashville, where early childhood educators from around the world gathered to connect, collaborate,...
---