Making Music Together With Your Infant Can Brighten Their Mood, Benefit Their Brain and Boost Their Language Skills
We are coming to the end of 'Infant Mental Health Awareness Week 2019' – a week-long campaign organised by The Association for Infant Mental Health UK (AIMH UK) which has seen events take place across the country to raise awareness of what Infant Mental Health is and to highlight the importance of the conception to age 2 period.
The mental health of babies and very young children can often be overlooked, but it is crucial to development later in life. The time between conception and when the child reaches the age of two is especially vital for well-being and brain and language development.
'Probably the most important period in everyone's life is the one that they cannot remember' (Balbernie, 2008)
Music plays a powerful role in the lives of young children. Through music, babies and toddlers can come to better understand themselves and their feelings, learn to decipher patterns and solve problems, and discover the world around them in rich, complex ways. A sensory-engaging musical environment can greatly contribute to a child's cognitive and sensory development.
The positive effect music has on babies and children is surprisingly diverse, encouraging babies' development in both the mental and physical spheres. Playing and making music with your baby can activate the neural pathways responsible for many skills including; language, memory, spatial awareness, emotional intelligence, creativity and even mathematics.
For centuries parents have sung lullabies to their babies from birth, instinctively using music to calm and soothe, to express love and joy, and to engage and interact. Parents can build on these natural instincts by learning how music can impact child development, improve social skills, and benefit children of all ages.
We understand the value of parents building secure attachments and loving bonds with their babies. Providing parents with musical instruments, particularly those tuned to the pentatonic scale, will support developing parenting skills and babies will love these musical interactions. Music-making and singing together will provide wonderful interactions and can contribute substantially to the parent-child relationship and positive mental and emotional health for both parent and child.
When babies or toddlers play musical instruments they release pent up energies to feel good about themselves, to make them calmer and more attuned to their feelings. They get frustrated because they don't know how to verbalize their feelings, however, when they play music they can express themselves and whatever it is they have in their minds. Music can help children to 'hear' what certain feelings sound like. Improvising with music can help a child to get in touch with and/or express a feeling he or she may be experiencing at the time; whether that may be happy, sad, scared or mad.
There is no downside to bringing children and music together through fun activities and we are able to enjoy the benefits of music from the moment we're born.
Music can enliven and enrich the lives of children and the people who care for them.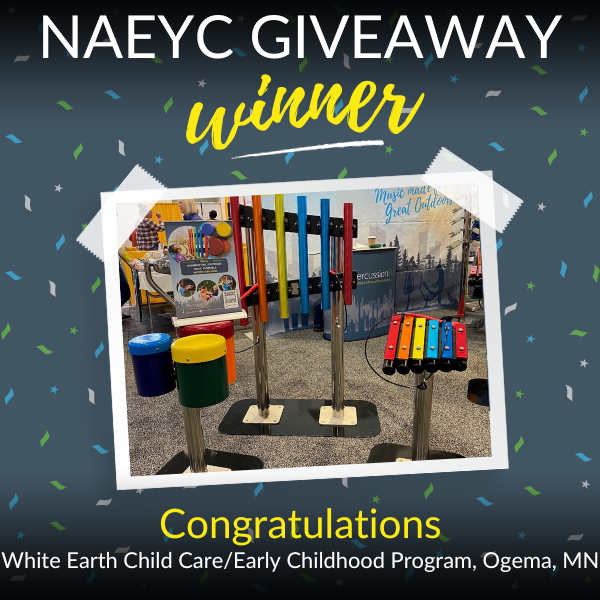 Last week we attended the NAEYC Annual Conference and Expo in Nashville, where early childhood educators from around the world gathered to connect, collaborate,...
---