Leave the text books inside for Empty Classroom Day
Let's hope that the sun will be shining for 'Empty Classroom Day' on Friday 17th June.
An annual celebration of learning outside, Empty Classroom Day is a chance to inspire schools to take to their playgrounds, fields and gardens and find creative ways to enjoy taking at least one class outdoors during the school day.
The aim of the campaign is that in every school in the world there will be an empty classroom and pupils will be leaving the text books inside and experimenting and learning in a whole range of subjects in the great outdoors. Sounds right up our street!
Learning outside the classroom can be fun, memorable and healthy and the outdoor classroom presents an array of opportunities for pupils to take part in both independent and collaborative experimental learning.
Some things just work better outdoors and music for young children is one of them
A great music program is one that uses your whole environment, indoors and outdoors. Musical instruments in your outdoor area will encourage children to learn about music through free play and exploration, subtly integrating music into the everyday experience of the children. Children revel in freedom to explore the range of sounds, tempos and dynamics of the musical instruments. Children need to own their music and free play is what gives them mastery.
Music is an intensely social experience; children learn to cooperate to play music. They learn to choose between different ways of playing music – on their own, with small groups or in large cooperative groups. They learn about taking turns with the instruments and sharing the musical instruments with their peers.
Music can be intensely physical and movement to music is a wonderful way to get kids up and active
Playing music offers opportunities for both fine and gross motor activity and often children who don't normally choose motor activities will respond enthusiastically to movement to music. Outdoors, children have the freedom to make large whole body movements safely, however as they become increasingly adept at playing the instruments with greater and greater control they'll learn that the instruments can be played in a number of different ways and that they are in control of how the instrument sounds.
Making music is emotionally satisfying
When you are feeling angry, nothing makes you feel better than playing a drum really loudly! Being outside means this is not a problem. Outdoor Drums are a fantastic alternative playground activity, boosting their hand to eye co-ordination and inviting children to create real funky beats. Their unique look colourful style and innovative robust design provide children with hours of fun. Children can learn to explore their emotions through music and to share their emotions with others, and they learn that they can use music to affect their own emotional state.
The introduction of an outdoor musical garden or outdoor 'soundscape' will help children discover the joy and empowerment of music making while enjoying the benefits from spending time in the natural environment. Exploring new sounds, enjoying the fresh air and sunshine (well, fresh air at least!) and maximising the musical potential of a child during their most rapid developmental period.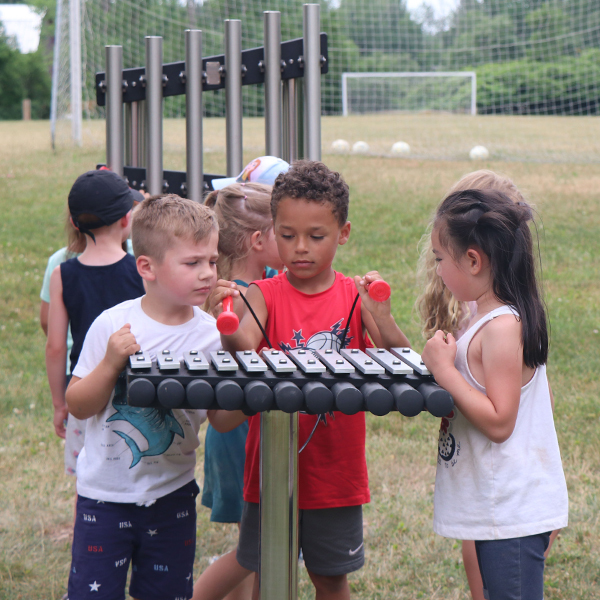 Making music around the campfire is just one traditional pastime at camps that guests often find to be one of the highlights of their stays. The warmth...
---