How Creating Music Outdoors can Promote Inclusivity and Support Intergenerational Play
In honor of National Park Week, starting on April 22, we highlight how outdoor musical instruments can make perfect additions to parks, bringing music to outdoor spaces worldwide. People of all ages and abilities can play and enjoy them, promoting intergenerational play and inclusivity.
It is well-known that playing musical instruments lifts people's moods and creates a powerful sense of well-being, and it has long been shown to significantly improve communication for those with a wide range of disabilities and health conditions. Being outside also enhances our mood - the positive effects of being outdoors can be significant.
The benefits of playing music outside can be seen at Verdugo Park, a beloved park in the City of Burbank, California, close to the glamour of major Hollywood film studios. It has recently been given a public artwork facelift with a mural and interactive sound sculptures, including musical instruments from Percussion Play. "The Answer is Yes" mural and interactive sound sculptures now boldly enliven the entrance to the popular park and were designed by the artist Dina Fisher.
Parks should be accessible to everyone, and Harris County in Texas has the aim to make all of its parks inclusive. Percussion Play's instruments are featured in most of the parks within the county, with colorful Rainbow Chimes, Harmony Flowers, and Harmony Bells, as well as Rainbow Cavatinas and Petal Drums. They provide visitors with spaces to make music together, where no previous musical skills or knowledge is required to enjoy them. People of all ages and abilities can play alongside each other and experience the joy of spontaneous music-making in the outdoors.
Located in an underserved part of Harris County, the revitalized James Driver All Inclusive Park is the first fully inclusive park in Precinct 2 and Harris County. Commissioner Adrian Garcia's vision was to create a space for everybody regardless of limitations and challenges. The park now serves as a hub for the local community, providing a space for residents of all ages and abilities to exercise, socialize and play.
Commissioner Adrian Garcia says, "The percussion sets are a win-win in many aspects! They add to the aesthetic of the public space, expose children to musical instruments, allow children to express themselves in a new way, and stimulate sensory learning.
The value of inclusive parks is priceless. By allowing people of all abilities to use our facilities, we see people at our parks we have never seen before. The park is always busy. We are proud the park is getting national attention and can raise the bar for how we think about parks and inclusivity!
Jody Ashfield, Co-founder and CEO of Percussion Play said: "Studies show again and again the power of creating music outdoors, and we are proud our instruments are enjoyed in parks across the world, particularly in the United States. In supporting National Park Week, we are encouraging people to get outside and visit their local parks and, if they can, play music in the great outdoors!"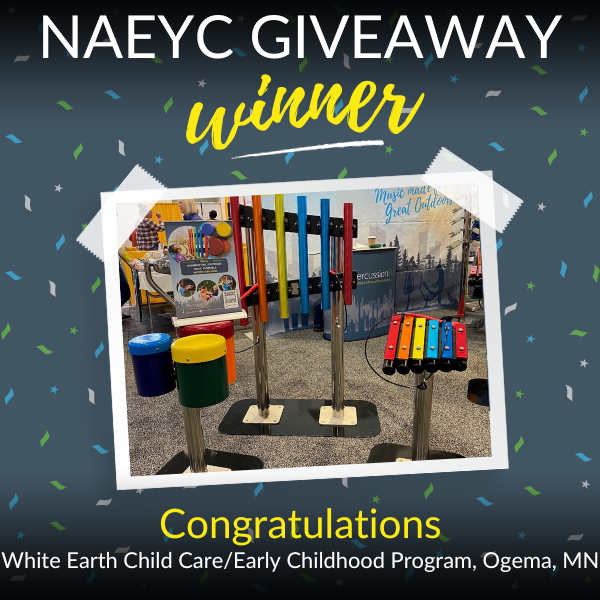 Last week we attended the NAEYC Annual Conference and Expo in Nashville, where early childhood educators from around the world gathered to connect, collaborate,...
---