#OptOutside and Recreate Musically This Black Friday
If you have ever wondered what #OptOutside is, have never even heard of it, or perhaps know all about it, we strongly encourage you to participate this Black Friday.
The #OptOutside movement was started by the outdoor retail company REI in 2015. The basic meaning of #OptOutside is to go outdoors on Black Friday instead of shopping!
Every Black Friday since 2015, REI closes all its 150+ stores, does not process any online payments, and gives its 12,000+ employees a paid day off to spend in nature. All this on one of the biggest shopping days of the year! The outdoor retailer's ethos was to not only encourage their employees to get outside but to inspire others to join in the movement. Active participation is encouraged using the hashtag #optoutside, through which participants are invited to share media from their outdoor adventures.
Jerry Stritzke, president, and CEO of REI, said, "We think Black Friday has gotten out of hand, and so we are choosing to invest in helping people get outside with loved ones this holiday season rather than overspending in the aisles. Please join us and inspire us with your experiences. We hope to engage millions of Americans and galvanize the outdoor community to get outside."
From the beginning, the campaign encouraged others to join in. Other companies and not-for-profit organizations began offering employees the same, offering free services or waiving entry fees for outdoor activities.
The #OptOutside campaign now gains traction each year, spurring people to opt for outdoor adventures and out of the madness of Black Friday shopping and doing something, anything, out in the great outdoors. Since our goal is to help people get happier by having musical fun outdoors, we wholeheartedly salute and thank REI for launching this effective initiative to get people outside.
So we invite you to #OptOutside on Black Friday (November 25). Instead of spending the day standing in line, we challenge you to find your next (or first) music park and encourage you to spend time immersed in nature or exploring your neighborhood with those you love most.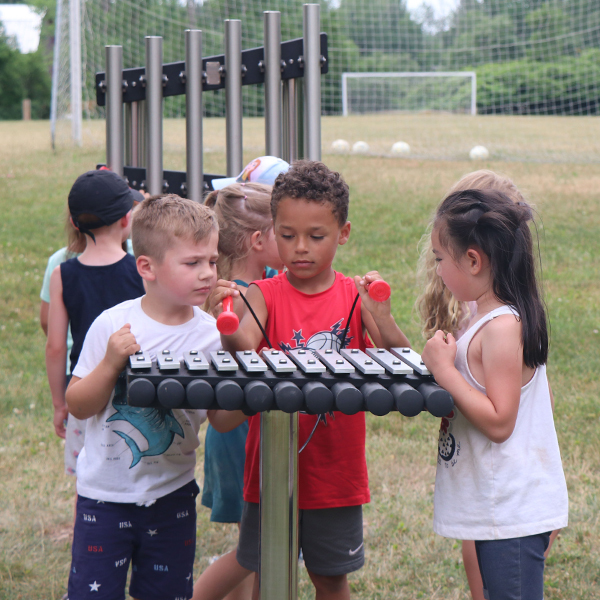 Making music around the campfire is just one traditional pastime at camps that guests often find to be one of the highlights of their stays. The warmth...
---