​Papilio Outdoor Metallophone takes flight!
Percussion Play are delighted to introduce a new metallophone into their range of outdoor musical instruments. The Papilio is our largest single instrument, yet as the pictures show its suitable for all, from tiny tots to elders.
Firstly, why is it called Papilio? Papilio is Latin for Butterfly. The word Papilio was used as the genus name or every known species of butterfly in the world. The shape of our Papilio outdoor musical instrument resembles a giant butterfly, hence the name.
What's a metallophone? Any musical instrument consisting of tuned metal bars that are struck to make a sound. The most recognised metallophone is the Glockenspiel and relatives of the glock include the saron, bell lyre, fangxiang and the gender. Metallophones have been played in eastern Asia for more than 1,000 years and were first mentioned in Europe in the middle of the 18th century.
How does it work? The 32 tuned metal keys are anodised aluminium tubes, suspended by stainless steel cables and arranged in a mirrored layout. Striking the keys with the beaters produces a bright, high-pitched ringing tone. The keys are of graduated length, with the longer keys producing lower tones and the shorter keys producing higher tones. Papilio is tuned to the key of pentatonic C-Major. The tonal range is from Middle C to C7 spanning 3 octaves.
Who has used a Metallophone? The first composer to write for the glockenspiel in the orchestra was Georg Friedrich Handel, who included it in his oratorio Saul (1739).
For The Magic Flute (1791) Wolfgang Amadeus Mozart had a glockenspiel, he used it to characterize Papageno, the birdcatcher (magic bells).
Why have an outdoor metallophone? The Papilio is large and allows up to four players to come together and improvise, not easily achieved indoors! Children will love the idea that music can be played outside of the classroom and create wonderful music and fill the air with gorgeous sound!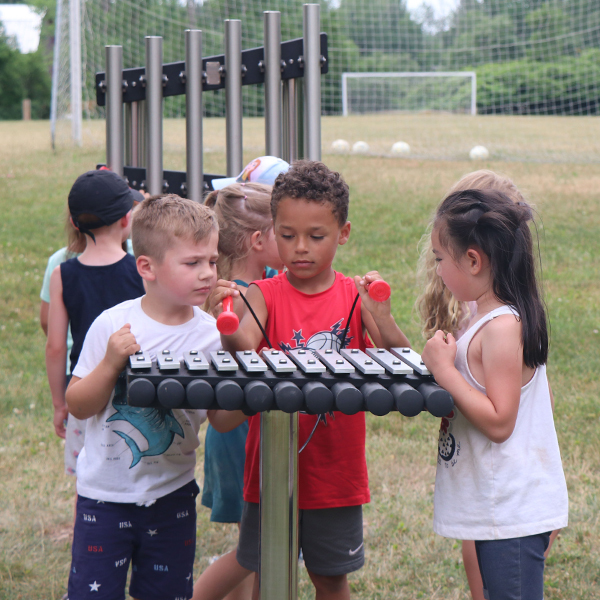 Making music around the campfire is just one traditional pastime at camps that guests often find to be one of the highlights of their stays. The warmth...
---