Royal 'Shaping Us' Campaign Strikes a Chord
Shaping Us is a new long-term campaign from The Royal Foundation Centre for Early Childhood that was launched last week by HRH The Princess of Wales, which aims to transform public awareness of early childhood.
The movement is supported by a range of experts in early childhood and high-profile figures from media, music, science, and sports, and a campaign most definitely supported by us at Percussion Play. Our own research details just how important music is in early learning, such as understanding how to socialize, learning to be independent, and being creative.
Our white paper 'Music Matters; Music and Music Education' highlights how being exposed to music from a young age, particularly within a school or nursery setting, has been proven to encourage teamwork, self-confidence, empathy, improved communication skills, and intellectual curiosity. Individuals who have had the opportunity to develop these skills and behaviors in early life often turn out to be happier, healthier, and higher-achieving adults than those who do not. For these reasons, encouraging music education programs in schools and providing young children with access to musical instruments would have far-reaching benefits not just for the individual but for society as a whole.
One of the most obvious benefits of musical training for children is its positive impact on their self-confidence and social development. It is evident that children who participate in musical training are more aware of others and have a greater appreciation for other people. This is because when children play musical instruments alongside others, they learn to support each other and work towards the same common goal. Playing in an orchestra, band, or ensemble requires commitment and practice, and so children are trained in teamwork and self-discipline in addition to musical skills. As a result, children who play musical instruments are better team players and have a heightened sense of responsibility towards others.
The Princess of Wales commented on her campaign launch; "The way we develop, through our experiences, relationships, and surroundings during our early childhood, fundamentally shapes our whole lives. It affects everything from our ability to form relationships and thrive at work to our mental and physical well-being as adults and how we parent our children. These are the most preventative years. By focusing our collective time, energy, and resources to build a supportive, nurturing world around the youngest members of our society and those caring for them, we can make a huge difference to the health and happiness of generations to come. Society has a role to play in this, even if you are not directly involved in a child's life, because we are all responsible for building a more compassionate world in which our children can grow, learn and live. In these difficult times, it is more important than ever to help support parents and caregivers to provide loving, safe, and secure homes for their babies and young children to thrive."
Many of our outdoor musical instruments are for children to enjoy, installed in nurseries, schools, and playgrounds such as Ashbridge Independent School , which recently installed a range of our instruments for pupils aged 0-11. The installation also has a royal connection as it was completed just ahead of the jubilee, meaning that the new adventure and music area is appropriately called the 'Jubilee Park' to commemorate Her Majesty Queen Elizabeth's Platinum Jubilee in 2022.
Of course, the benefits of playing outdoor musical instruments extend past the school gates. Our outdoor musical instruments are located worldwide in family-friendly settings, including playgrounds, trails, museums, libraries, public gardens, and just about anywhere with available outdoor space. Families can use these instruments for spontaneous music-making to create memorable family moments and nurture creativity, self-confidence, and a love of music within young children. A further white paper 'Play, Percussion and 'Post-Age' Pedagogy: The Positive Effects of Intergenerational Music-Making' explores how music can be key to family connections.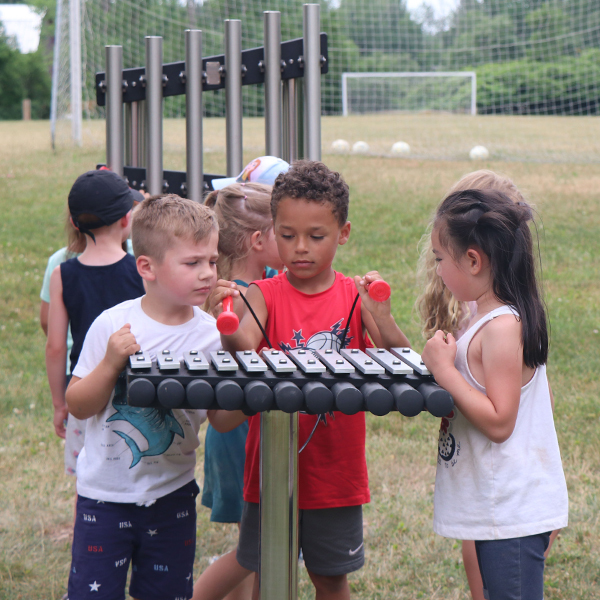 Making music around the campfire is just one traditional pastime at camps that guests often find to be one of the highlights of their stays. The warmth...
---