Why Outdoor Musical Instruments Are Not Just For Kids!
We've had some wonderful comments and photos of the outdoor instruments installed on Boscombe pier musical trail. Interestingly it seems the adults are enjoying them just as much as the children, always taking a casual glance around them first to see if anyone is watching before they start playing. I wonder why? Whoever said adults couldn't have fun in public? Children jump at the opportunity to make lots and lots of noise, learning how to create their own unique music, however what makes us adults hesitate first?
I've been told that improvisation can be more difficult as an adult. It can be hard for someone to open up and allow the 'improv' to come through. Similarly, adults usually find it more difficult than children to learn a new musical instrument, not because they haven't got the ability, but often because they are more self-conscious about sounding like a beginner and making mistakes. On the other hand, children don't have these negative thoughts in their minds, as they are constantly learning new things and told how great they sound. Many adults, especially those who enjoy instrumental and acoustic music, would love to learn to play a musical instrument, but are intimidated by the prospect and/or have never had the opportunity or time to learn themselves. Yet that feeling of accomplishment and serenity we felt when playing as a kid always beckons to us.
Pablo Picasso once mused, "Every child is an artist. The problem is how to remain an artist once we grow up." Picasso understood that our ability to try or learn new things is a characteristic we lose over time, we start to fear taking risks or finding different ways of expressing ourselves. I think this is really sad, think of what we could be missing? As adults we can enjoy the good things that playing music has to offer just the same, if not more than our children. Even at the most basic level playing music helps us feel better about ourselves.
If you're an adult meeting our instruments for the first time, don't hesitate! They'll give you the chance to either reacquaint or discover the joys of playing an instrument without getting side-tracked by having to learn music theory or how to read music. Have a little patience with yourself at first, you're asking your hands and brain to do things they haven't done for a while, relax and progress will soon come. You'll be amazed how quickly you get the hang of it. There are no rules for improvisation, the focus is on creativity and expression and there are no instruments as easy to learn as ours, yet they're capable of making some very complex, very beautiful music.
Shake off your inhibitions and find your inner child - it's worth it. Playing music is never a waste of your time and could be a thoroughly enriching experience. Here's another quote to make you think, 'The creative adult is the child who has survived' - Ursula K. Le Guin.
I want to be a survivor.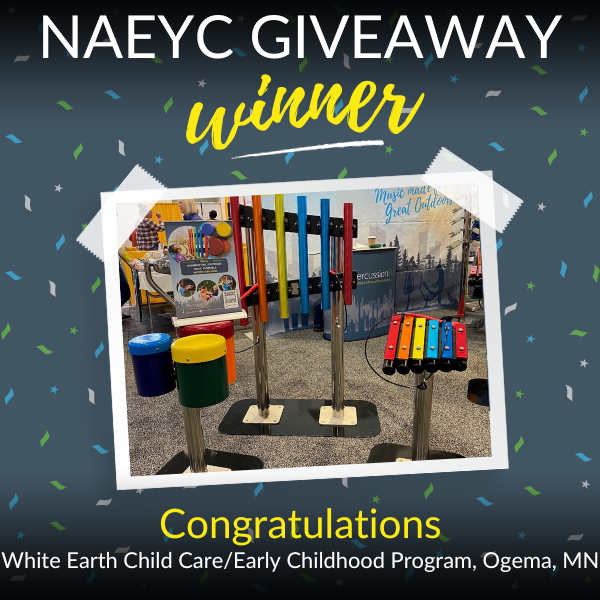 Last week we attended the NAEYC Annual Conference and Expo in Nashville, where early childhood educators from around the world gathered to connect, collaborate,...
---