Outdoor Musical Instruments Help in The Race to Prevent Nature-Deficit Disorder
It is well documented that time spent in the great outdoors is one of the easiest and cheapest ways to maintain or improve our overall health and wellbeing. Still, we are spending more time inside than ever before. Computers, tablets, cell phones, and video games all compete to hog our attention and keep us from stepping outside into nature to decompress. Most concerning is the impact that this lack of exposure to green outdoor space is having on the health of our children.
The concern about children spending too much time indoors has become so great that it has been given its own term: Nature Deficit Disorder, or NDD. Although it is not currently a recognized medical condition, concerns about its effects on young people's wellbeing are attracting widespread attention.
Instead of basking in natural sunlight, many children today are spending hours of their time basking in the glow of the blue light from some form of screen: disturbing their natural circadian rhythms, impacting their sleep quality, and forming a detachment from the natural world.
Problems such as difficulty concentrating, high-stress levels, and poor physical health, diabetes, hypertension, obesity, and depression are common companions to a sedentary indoor lifestyle. Sunlight triggers the body's vitamin D production, which in turn helps us to fight off inflammation, lower blood pressure, and improve brain function, bone, and muscle health. Being outside in fresh air and sunlight protects growing eyes, with the ample light of the outdoors preventing their eyes from working harder than they need to.
There is too much at stake here simply to accept the situation as an inevitable consequence of modernity. It is the joint responsibility of parents, educators, and urban planners to help this 'indoor generation' to easily and safely spend more time outside, reconnecting with the natural world—wherever they are located. If children are given the opportunity to experience nature, even in simple ways, interaction and engagement follow quite naturally. Time spent outside needs to be an everyday occurrence, and if we design our cities—including our homes and schools—with an integrated approach, with landscaping and architecture blending to work in harmony with nature, it has the potential to become a commonplace pattern.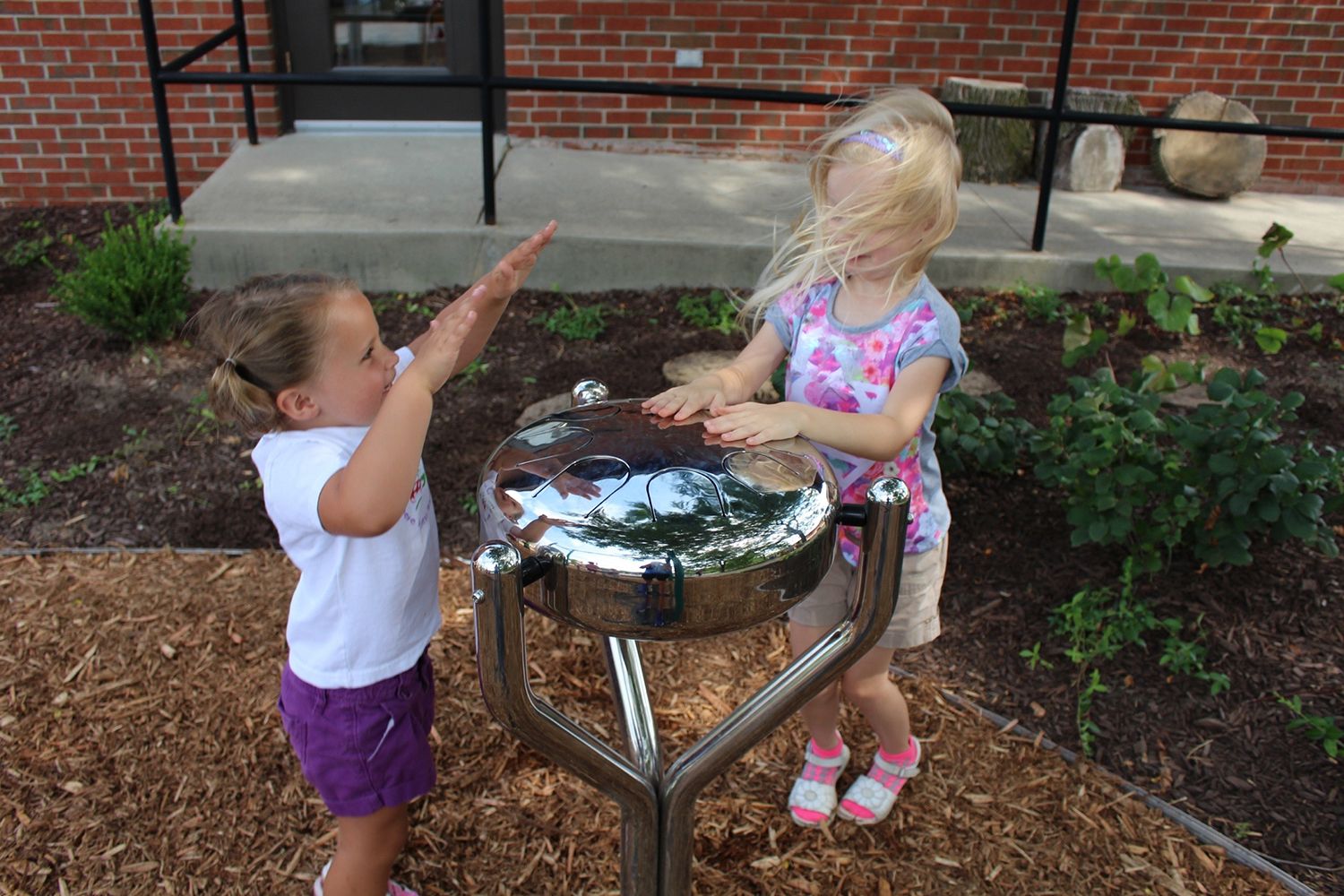 The Outdoor Classroom
Classrooms without walls are a great way to promote time spent outside for both outdoor learning and play. There are countless physiological, social, and academic benefits to learning outside - for both pupils and teachers - that indoor classroom lessons just cannot match. Outdoor learning encourages kid's creativity, builds their attention spans, and increases their desire to explore, yet, despite the outdoors being purported to be so significant and beneficial, it is still often overlooked or under-utilized when teaching elementary children.
Outdoor classrooms allow a school to offer daily opportunities to learn outside; a place for telling stories, a place for cooking, a place for supporting the arts, a place for play. Children can move seamlessly between indoor and outdoor spaces with alternative methods of learning providing a host of advantages for children, who often don't realize they're learning when outside.
Well-equipped outdoor classrooms provide wonderful opportunities to deliver unique and engaging experiences for pupils outside of classroom walls while exploring numerous subjects such as math, science, literacy and language, and unquestionably, music.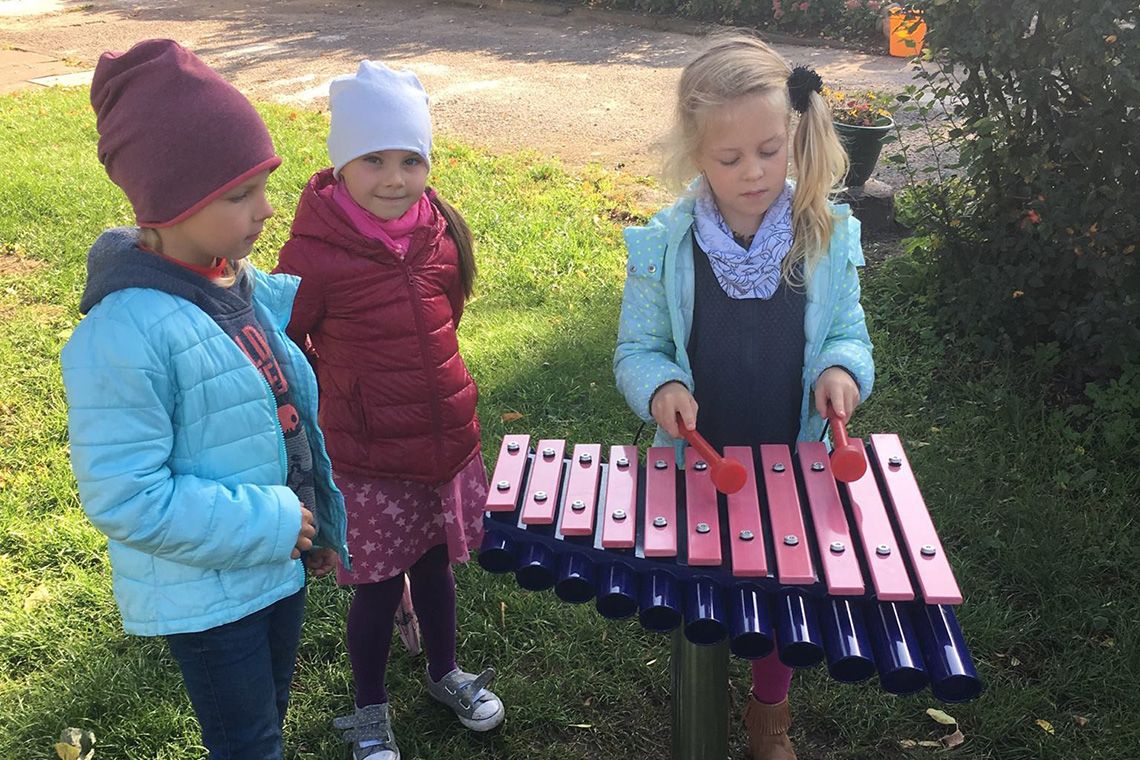 Music in The Outdoor Classroom
There are some things that just work better outdoors, and music is one of them!
A great music program that uses your whole environment and musical instruments in your outdoor classroom and/or playground will encourage children to learn about music through free play and exploration - subtly integrating music and 'outdoor time' into their everyday school experience.
Children revel in the freedom to explore the range of sounds, tempos, and dynamics of the musical instruments and free play is what gives them mastery. Children often feel less inhibited outdoors and musical playground equipment will help introduce basic musical concepts whilst being sure that the focus is on the fun. This notion of experimentation, of flexibility, of just having a go are all elements needed to become confident, rounded musicians of the future.
Music is an intensely social experience; children learn to cooperate when making music together, combining their efforts to solve problems, make decisions, and work together towards a common goal. Collaboration is needed to create a new melody or rhythm and they're required to listen to each other as well as the sounds produced, to share each other's ideas and express their own. Children can fine-tune their listening skills outside and develop confidence in projecting their voices across space.
Music also has an inherently physical dynamic; movement to music is a wonderful way to get kids active, offering opportunities for both fine and gross motor activity. Outdoor environments not only offer greater freedom of movement than a classroom but also allow for less constraint to ways of behaving and thinking, making the outdoors open to richer experiences due to the increased space and the creative possibilities it presents.
Children can learn to explore their emotions through music and can learn to share these emotions with others; plus, they'll learn they can use music to affect their own emotional state. When you are feeling angry, nothing makes you feel better than playing the drums real loud, right? The introduction of an outdoor musical space or trail as part of a school's outdoor education program will help children discover the joy and empowerment of music-making while reaping the benefits of time in the natural environment.
Watching a class of children playing outdoor instruments prove that, when presented with the opportunity, life outdoors is still something children benefit greatly from and, more importantly, enjoy.
Outdoor music lends itself to endless openings for learning through play. As well as designing and manufacturing outdoor musical instruments, Percussion Play have compiled an online knowledge base which hosts articles detailing the varied benefits of musical and outdoor play and White Papers on various music, play and health-related topics.