Libraries are writing a new chapter for the 21st century - redefining what they do…. and what they sound like!
We all know libraries as amazing places for discovering books, however in today's world "looking something up" rarely requires a trip to the local library. This has seen a need for local libraries to reinvent themselves and many have regenerated into thriving community centers - just as dedicated to learning but now in many different forms.
Modern libraries actually have more to offer their customers than ever before with an even more critical function - serving as enriching centers that encourage literacy, research, learning, and community involvement on a broad scale. Vibrant community hubs that offer free activities where people can try something new and/or develop their skills or artistic talents.

Increasingly, the discovery of new experiences is at the heart of what libraries are about, bringing people and places to life. Re-imagining the trusted space of the library as a place to discover something new – such as art, culture, and, of course, music.

Drawing people in by creating unique communal opportunities and experiences - such as making music on 'real-life' musical instruments – ensures they remain focussed citizen-centric locations for innovation, education, recreation, and relaxation. However, with many libraries lacking the space to offer interactive musical experiences within the building, many libraries are choosing to utilize their key asset: the great outdoors!
Libraries and music are both magnets for social connections and we have seen a dramatic increase in inquiries from libraries looking to reinvent their outdoor space to create music gardens, courtyards, or sensory spaces - providing somewhere safe, and appealing for staff, patrons, and visitors to foster connections and focus on wellness. Sherman Public Library is a shining example of how music can be used to enliven library spaces. Converting an empty 7,000-square-foot lot into an outdoor pavilion with large interactive musical instruments and a butterfly garden to enhance the services offered by the library, as well as to provide a space for rest and reflection, they officially opened their harmony Music Park last year.
Outdoor musical instruments are suitable for almost all libraries regardless of scale or climate. Locations with more green space can create music gardens or 'musical parks' and leverage their outdoor spaces to encourage fun musical activities and programs - connecting music with nature and the environment. Funded by the Friends of the Pickerington Public Library, the music-garden created back in 2019 allows visitors and patrons of the library to experiment musically in the great outdoors - regardless of their age or ability - while also providing a year-round venue for outdoor programs.
Urban libraries can put sidewalks and patios and even walls to use - the visibility of the musical instruments will pique the interest of passersby, increase interest in the library and reinforce the institution as a relevant and current community asset. White Plains Library in NY worked with Landscape Architects and the City Public Works department to create a sensory experience and musical discovery garden for both patrons and commuters in the plaza at the front of the library.
Libraries featuring outdoor musical instruments will add an element of fun as well as a significant asset to the community, fuelling inspiration, generating energy, and engaging people in a new and interesting way. This is exactly what the folks at North Mankato Taylor Library hoped for when they installed outdoor musical instruments using an Arts and Cultural Heritage Fund to create their music courtyard to the front of their library.
You don't need to be as talented as Mozart to enjoy the benefits of making music. Outdoor musical instruments are designed for all music makers and players who are complete beginners will soon be expressing themselves through sound for the first time.

Outdoor musical instruments installed outside the local library will offer serendipitous encounters and encourage community interactions.

Benefits of Learning and Playing Music For Adults
Researchers have pondered the possible therapeutic and mood-boosting benefits of music for centuries with many concluding it as a valid method to potentially reduce depression and anxiety, as well as to improve mood, self-esteem, and quality of life.
Partnering with other local institutions, health specialists, and musical organizations to expand the types of activities on offer, outdoor musical instruments can be used for music therapy, rehabilitation, and senior activities designed to achieve goals such as managing stress, enhancing memory, and alleviating pain.
Working together to produce a collaborative output is a powerful way to bring out the best in people — not just in terms of their musical skills, but their communication skills, friendships, care, and support for one another.
For more information, why not read one of our White Papers such as Come One, Come All : The Benefits of Music-Making Within the Community, Hitting The High Notes - The Benefits of Music for Mental Health or Music For Mood & Memory - The Benefits Of Music For People Living With Alzheimer's Disease and Dementia
Benefits of Learning and Playing Music For Children
At an early age, children are learning to enjoy and appreciate music and therefore don't need a formal learning environment. Children often feel less inhibited outdoors and outdoor musical instruments will help you introduce basic musical concepts whilst being sure that the focus is on the fun. Due to their clever design and use of the pentatonic scale, our outdoor percussion instruments are so easy to play that children are able to develop musical skills without having to manage any technical demands of an instrument, showing children what can be expressed and achieved through music.
Being outdoors helps ensure children have genuine freedom of musical expression. Behind this is the notion of experimentation, of flexibility, of having a go. Most important of all, they come to understand the pleasure of enjoying music. Using musical instruments outside alongside games and movement, children are introduced to the elements needed to become confident, rounded musicians.
Being exposed to music from a young age has been proven to encourage teamwork, self-confidence, empathy, improved communication skills, and intellectual curiosity, and individuals who have had the opportunity to develop these skills and behaviors in early life therefore often turn out to be happier, healthier and higher-achieving adults than those who do not.
Arts programs are being slashed across the board. Music programs are being cut back or eliminated completely. For these reasons it would seem fair to say that encouraging music programs in libraries and providing young children with access to musical instruments would have far-reaching benefits not just for the individual but for society as a whole.
Read more here: Music Matters: The Importance of Music Education.
You may also be interested in Five Notes To Rule Them All: The Power of the Pentatonic Scale the musical scale that has no barriers to engagement and no matter what the age, cultural background or level of ability a musician has, it can be understood, appreciated and used by all. Many of our instruments are tuned to this scale and help make music instantly gratifying.

Ready to reinvent the outdoor space of your library?
Libraries are no longer quiet zones but instead hubs for creative activities both inside and outside. Join the cultural uprising and Talk to Us about creating a space for music-making outside your library - the hearts, brains, and bodies of your patrons and community will thank you for it!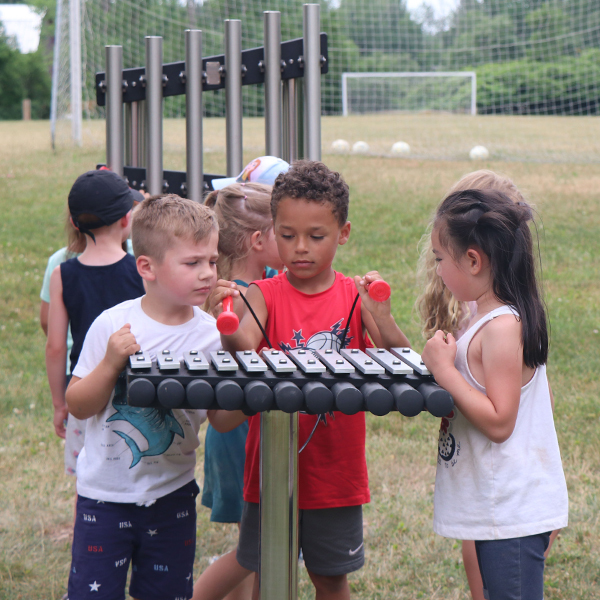 Making music around the campfire is just one traditional pastime at camps that guests often find to be one of the highlights of their stays. The warmth...
---