Percussion Play: 2021 A Year in Review
It's holiday time again and maybe like me, you're dazed by the fact that another year is coming to an end!
Taking the time to look back can help us realize just how much has happened in the last year. December is a time for reflection, a chance to recap the highlights and achievements of the past 12 months.
So where to begin? First of all, I'm sure we can all agree it's been another rather unusual year! As the world continued to battle the coronavirus pandemic, we have been able to demonstrate time and time again through our case studies and social media posts that it hasn't broken spirits. We've shared stories from across the globe that illustrate just how music in the great outdoors has encouraged community spirit, bought about positive interactions, engaged families, and bridged intergenerational gaps. These are just some of our favorites:
We've created content on our blog which we hope you have found engaging and shared with your connections. Some noteworthy blog posts include:
Throughout 2021 we published a series of eight articles called 'Bite-Size Beats' that explored the application of outdoor musical play within early years settings including:
Towards the end of the summer, we began filming new product videos. The goal for each of our videos is to bring the instrument to life, showing the viewer how the instrument is played, the size and shape of the instrument, and most importantly how good it sounds. We think these new videos do a great job of showing the instruments in action and the many locations they are suitable for. If you missed them you can view our showcase of videos on Vimeo or follow the link to our YouTube Playlist
Without question, the highlight of our year was winning the Queen's Award for Enterprise for international trade. A fantastic achievement with our CEO and Founder Jody Ashfield commenting at the time on the award win "We feel extremely honored to win a Queen's Award and delighted to receive such recognition of our business growth and success. We are very proud to know our outdoor musical instruments, manufactured here in Hampshire, are being enjoyed by communities across the globe. We've shipped our instruments to be played in so many different locations, from busy city parks and playgrounds to locations where they are used for music therapy, dementia care, music education and to create interactive community spaces designed to bring people together. On behalf of our amazing team, we will enjoy this moment and continue to work hard to bring a little harmony to the world."
We do hope that this overview has given you some sense of the diversity, depth, and impact our outdoor musical instruments have had during 2021.
Thank you most sincerely from us all here at Percussion Play, for keeping in touch and reading our Blog, Case Studies, and Social Media posts. We can't wait to see what we all achieve together next year!
And so it only remains for us to wish all our customers and readers a safe, joyous, and relaxing festive season, and a happy and healthy 2022.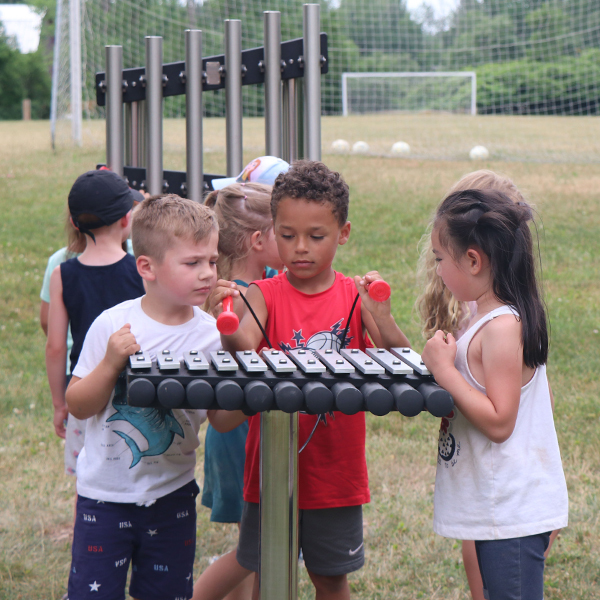 Making music around the campfire is just one traditional pastime at camps that guests often find to be one of the highlights of their stays. The warmth...
---