Vibrant Musical Alleyway Opens Thanks To KaBOOM! Grant - Genesee County New York
The Genesee-Orleans Regional Arts Council (also known as Go Art!) opened its brand new musical garden last month following a successful 'preview' event with the local Girl Scouts.
What was once just an alleyway — dirty pavement, crushed cans and crumpled paper wrappings, lined by a nondescript garden wall, plain brick, and nothing else - is now a place of community pride. A transformation from an underutilized space into one of vibrancy, culture, and great music!
The "Play Me A Tune Music Garden" is located behind the GO Art! location on 201 East Main. Street. It features 18 different outdoor percussion instruments, sidewalk lights, and a musical-themed mural. The project's aim is to expose families to arts and culture as well as creating opportunities for after-school programming. It's estimated that the music garden will serve 860 kids annually.
Gregory Hallock, Executive Director of GO Art! tells us that the new musical garden came about when he received a phone call from KaBoom! asking if GO Art would be interested in applying for a grant from the 2019 Play Everywhere Challenge. The challenge invited communities to submit creative design ideas that make it easier for families to incorporate play into everyday moments. The successful projects would see play opportunities appear in public spaces in unconventional ways - inspiring cities, residents, leaders, and community members to design and implement creative PLAYces for kids.
The grant application was successful with $70,000 awarded from KaBoom! which is funded through Ralph C. Wilson, Jr. Foundation
The musical alleyway features a line of outdoor drums - Trio of Djembes, Two Cajon Drum Circles, Small and Large Babel Drum and Congas and also features a Bell Lyre, Handpipes, Colossus Chimes, Penta Post, Capella, Papilio. A total of eighteen instruments.
The garden was designed and installed by local Mason Erick LeFevre, who told us "I build and install things all the time but to do something like this, to do something in the community where I live, to install these outdoor musical instruments that are going to be used by a whole bunch of people, not just one specific person for their own personal enjoyment, I thought that was kinda cool".
The new GO Art! Education Coordinator Theresa Kehel is already planning field trips and activities in the garden with local children. She says "Believe me, this space is just as appealing to adults as it is to children! I can see family groups having a wonderful time here. For me personally, because GO Art is my new job, I'm excited to put this into the community even more by inviting my colleagues, my former colleagues, and the school system - may be staging some contests, and seeing if people can come up with fun and interesting ideas, compositions and really utilizing the space".
Local artist, Jill Pettigrew designed a mural just for this magical space that sees a series of important and prevalent moments in Batavia's history — the founding of Batavia and its purchase from Native Americans, the famed 999 train and a woman who swam across Lake Erie — "All different things that spoke to me," Pettigrew said. The drawings drafted by Pettigrew were filled in by students of the local senior art class, children from the Creative Arts Camp and volunteers.
"Hopefully this is an opportunity for kids to come play, and parents to play as well, and enjoy the whole thing as a family," said Gregory "Children — or for that matter their parents — can all enjoy the opportunity to make music in an outdoor environment that will be available to play whenever GO ART! is open".
The Genesee-Orleans Regional Arts Council is dedicated to developing the cultural life in Genesee & Orleans Counties by facilitating the creation, presentation, and experience of the arts, heritage, and traditions.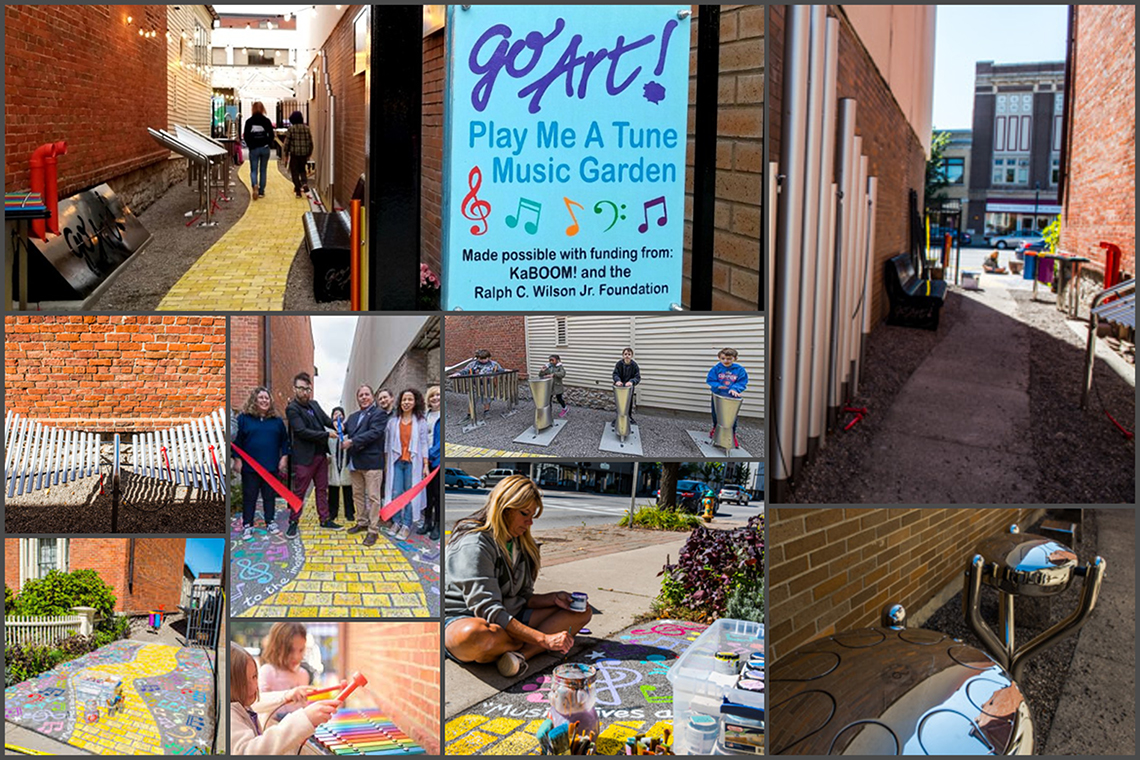 !